Myofascial Trigger Points
The answer to this question will include current, state-of-the-art research, as well as my and my colleagues' clinical experience over several decades. I will address each of the three questions in sequence.
1) What is the science behind trigger point deep muscle massage?
There are several theories for the etiology/pathophysiology of trigger points and myofascial pain syndrome. Research continues on each, as none have yet been decisively proven.[1][2] Massage therapy (MT) has been studied extensively, and has been shown to produce objective effects most notably in those bodily systems which interact locally with the myofascial (muscle and connective tissue) systems.[3] These include the local circulatory systems, local and central nervous systems, and the lymphatic system within the immediate vicinity of the area worked on. It should be noted that the fascial structures, which encapsulate the contractile structures and tissues, exert mechanical forces upon the other associated structures, thus affecting their physiological function. MT (specifically ischemic compression and friction massage) has been shown to be effective in releasing myofascial trigger points.[5] MT also has minimal side effects, no drug interactions, is low cost, and often includes positive patient-practitioner relations (which lead to a positive and productive mentality during therapeutic treatment and rehabilitation).
2)  It does work. But how?
MT that successfully releases trigger points includes ischemic compression and friction massage. Ischemic compression involves holding pressure steadily on a trigger point until it softens/releases. Friction massage involves sliding the finger/hand/etc. along a (usually) venous direction of a muscle. This creates a vacuum/suction effect upon the circulation which quickly introduces freshened circulatory fluids to the area, and moves inflammatory chemicals present back into general circulation.[6] The freshened circulatory fluids include blood and lymph, which carry pain-relieving endorphins, as well as energy constituents for metabolic recovery for both the myofascial tissue and the neuromuscular junctions. Inflammatory chemicals removed include substance P, prostaglandins, bradykinin, etc.[7]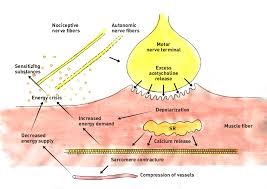 (image: Dry Needling & Manual Trigger Point Therapy Courses and Training)
If you'd like to see some of this for yourself, try this: locate the blue (venous) lines on the underside of your wrist. Press, then rub, slowly along the blue line toward the elbow. The blue line will go clear for a moment, then the blue, or venous, blood will return in a second or two. You have just performed friction massage to the veins which will drain blood and lymph from the tissues it serves. These tissues may contain nociceptive (pain inducing) and/or inflammatory biochemicals. If you flush the tissue of venous blood/lymph, creating a "quick-refresh" of arterial blood, the tissue will be flushed of painful biochemicals, while receiving pain-relieving biochemicals. This is the function of ischemic compression and friction massage for painful areas, including tissue with active trigger points.
3) How many sessions does it take before you feel relief?
If you have been properly diagnosed with MPS, and your practitioner is well-trained and experienced, you should feel immediate relief. Ischemic compression and/or friction massage releases a trigger point (and the attendant pain and tension) within a minute or two. If trigger points are extremely active, it may take several passes over an area to treat it completely.
There is a clinical understanding in our profession: the complex part of therapy is not releasing the patient's pain (if you know what you are doing), but rather keeping them out of pain.
If your therapist is good, you will feel better, at least significantly, for a while. The task for you then is to:
learn to do effective self-care to release the trigger points,
stretch/strengthen the tissue, and
track when the pain recurs, so that your practitioner can superimpose the timeline of recurrence with functional tasks, to possibly trace those tasks that need to be modified or eliminated (which will remove the trigger point's perpetuating factor).
When these have been accomplished, you should be solidly on the road to recovery. Progress often follows a "two steps forward, one step back" pattern, as perpetuating factors are gradually eliminated and the tissue rehabilitates successfully. How long that will take depends on many factors: your age, general health, metabolic factors, stress levels, fitness, ergonomic factors, daily functional tasks, diet, sleep, emotional state, etc. Your doctor and therapist should help you to minimize the impact of triggers, and also to bolster those areas of overall healthy living that need help. If symptoms don't improve noticeably within several weeks, you should seek other opinions and help.
————————————
[1] "Etiology of Myofascial Trigger Points," article on the National Center for Biotechnology Information, U.S. National Library of Medicine website.
[2] "Uncovering the biochemical milieu of myofascial trigger points using in vivo microdialysis: an application of muscle pain concepts to myofascial pain syndrome," article on the Science Direct website.
[3] "Physiological and clinical changes after therapeutic massage of the neck and shoulders," Article on the Science Direct website.
[4] "The Effects of Pressure Release, Phonophoresis of Hydrocortisone, and Ultrasound on Upper Trapezius Latent Myofascial Trigger Point," article on the Science Direct website.
[5] "The muscular force transmission system: Role of the intramuscular connective tissue," article on the Science Direct website.
[6] Myofascial Pain and Dysfunction: the Trigger Point Manual, pg. 86.
[7] "Changes in Blood Flow and Cellular Metabolism at a Myofascial Trigger Point With Trigger Point Release (Ischemic Compression): A Proof-of-Principle Pilot Study," article on the Science Direct website.
First, be certain that you actually have a trigger point. There are other, more serious problems that can mimic the referral zones of myofascial trigger points. (A referral zone is an area of pain that is caused by the trigger point, but is not necessarily in the same area as the trigger point.) See a competent doctor who can rule these factors out.
Once you have a firm diagnosis, the texts mentioned here are useful in finding the trigger points and understanding what factors cause them. Included in the books is useful, everyday advice on what actions or positions to avoid so you don't re-activate the trigger point and thus the pain cycle. Clair Davies' books are particularly good. For example:
I also recommend Sharon Sauer and Mary Biancalana's book on self-treatment for lower back pain:
In addition, the website of the NAMTPT (National Association of Myofascial Trigger Point Therapists) has a great *free* feature called the "symptom checker." This allows you to see common areas of pain and the trigger points (and their locations) which are most likely the cause.
To release a trigger point yourself, you will need to use your fingers or some sort of compression tool. Such tools include a Backnobber or Theracane:
You can also use a simple tennis ball or racquetball.  No expensive tool is needed; some just reach "difficult" spots better.  You can also put a tennis ball in a sock to use as a compression tool against a wall.
The trigger point is suffused with muscle-fatigue chemicals and pain chemicals, which lock the affected fibers into a state where they can't contract or expand properly. With tools such as your hands or the Backnobber, you are trying to direct blood to the trigger point. What you are not trying to do is "break it up" by rubbing across it. This can, in fact, bruise and/or irritate it.  A myofascial trigger point is not the same thing as an adhesion or scar tissue, although sometimes they coincide.
Presuming the trigger point does not include much inflammation, swelling or an entrapped nerve, here is what I've found works best:
Heat the tissue. The connective tissue softens and the muscle relaxes more. Blood is redirected to the area through vasodilation. Sometimes, this alone is effective enough to reduce the pain.

Perform compression to the trigger point. Use only enough pressure to "just feel it," not as much pain as you can stand. If you press too hard and you tense against it, you will not gain a release. A muscle cannot tense and relax at the same time. By holding the compression steady for a minute or two, you are "showing the blood where to go." Wait until you feel a softening or dissolving feeling in the knot (trigger point), and hold it until it feels "done."

Stretch the muscle slowly though its comfortable range. If you force the end of the stretch, you could reactivate the trigger point.

Apply a non-heating, anti-inflammatory cream. I use Myoflex cream.

Avoid whatever actions seem to make it worse. For help with that, see the books above.